Ashfords' Bristol team have been recognised at this year's Bristol Law Society Awards, being 'highly commended' in the Law firm of the year category. The category recognises firms that are able to demonstrate brilliance regionally, nationally or has seen significant development during the year.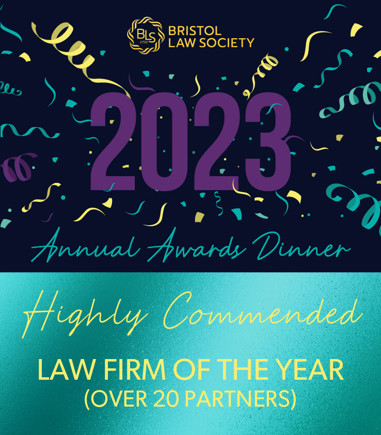 Ashfords has continued its growth in Bristol, breaking £50m revenues for the first time in 2023. The firm has also increased its people numbers by over 60% since 2020 and in the last six months welcomed Trusts & Estates Partner Mike Westbrook, Commercial Disputes Partner Tom Llewellyn, Restructuring & Insolvency Partner Melissa George and new CFO Nick Wrigley.
The firm is actively involved with the growing community of scaling businesses in the city, including the launch of its business scale-up hub, which provides a wealth of legal insight and guidance for entrepeneurs and growing businesses. The firm has also been working to widen access to legal careers, including the introduction of the first two paralegal apprenticeships in Bristol and workshops run with the Bristol Future Talent Partnership.
For the full list of winners and more details on the event, read the full story here.
You can also contact our Bristol office here.