It's difficult to give a definitive answer on this one. The time needed to complete an investment round will vary significantly based on the terms of the deal, the parties involved, how many issues may be uncovered along the way and lots of other variables. We've seen some rounds completed within just a few weeks, whereas others have taken 6 months plus – and this only refers to the legal part of the process, ignoring the time spent on pitching, early due diligence and other steps.
We appreciate that isn't very helpful, so see below for a very rough potential investment timescale based on our experience of many hundreds of investment rounds and some reasonable assumptions: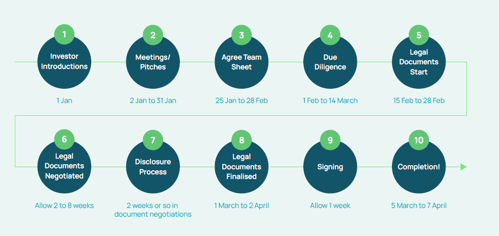 Please note the above does not include time for any tax clearances – e.g. SEIS/EIS advanced assurance (which HMRC state can take up to 6 weeks to process).
The above also does not take into account any additional time which may be required in connection with the National Security and Investment Act 2021, which can in certain circumstances add substantially to timings. See our Guide to this Act for further information.